Worship at Maxwell Street
" The LORD said, "Rise and anoint him; for this is the one."
1 Samuel 16:13
This Father's Day Sunday at Maxwell Street, we're going to sing "Lord of the Dance," "Hymn of Promise" and "Blessed Assurance, Jesus is Mine" this Sunday – all hymns you picked for worship!  Our wonderful Oboist, Allison Weitkamp, will play special music. We'll also continue with the wonderful stories from the Old Testament book of Samuel by thinking a little bit about our expectations vs. God's. I hope you will join us for worship!
Grace and Peace, Matt
VBS STARTS 

MONDAY

 MORNING!
9am-noon
Vacation Bible School starts Monday. Drop off your children between 8:45and 9 in Fellowship Hall. If you are participating in the aftercare program, don't forget to bring sun screen, lunches, and change of clothes. IT IS NOT TOO LATE TO SIGN UP; please get a form from the Narthex and give to Michelle or register online at: www. maxpres.org/vbs-2018-registration . See Michelle Jones if you have any questions. (mgarthjones@gmail.com)
Also Happening 
On Sunday
:
Bible Study Class (9:15am in the Scout Room)
One thing that can be said of Christians is that we acknowledge God in our lives.  Our faith focuses on who God is and what God has done, especially in Jesus Christ.  We acknowledge who we are; and in what we do, we seek to recognize and acknowledge the great and good God we worship and serve.  This is the theme of this class for the quarter.  It's open to all.  Join the group, led by Ron Eads, in the Scout Room.  The topic for this week is  Jesus Teaches about Justice (Matthew 15.1-9).
The Great Room Class and Listening for God Class are taking a break for the summer months.
The APNC invites you to join in "Parlor Chats" to discuss the progress on the search progress.  Please meet with members in the Marshall Parlor following worship.
FAIR TRADE PRODUCTS will be available to purchase in the Punch Parlor following the service.
HOUSING SIMULATION GAME is this afternoon from4:30-6:00pm.  We need at least 6 volunteers to help make this fun, life-experience game meaningful for our visiting work camp.  Questions:  contact Shelli (shelli@maxpres.org)
This Coming Week At Maxwell Street: 

June 18 – 23
Monday
9:00am    Vacation Bible School
10:30am  Pastor's Coffee is cancelled for this week due to VBS. We'll resume next Monday.
12:00pm   VBS Pick-up
5:30pm     VBS Aftercare Pick-up
6:30pm    Theology on Tap – will be meeting behind the main church building in the garage of the Mahan building. We're encouraging you to bring a 6 pack of your favorite beer to share. We'll also be putting MSPC stickers on the water bottles to be handed out at the Pride Festival on June 30.
Tuesday
8:30am   Sweet Blessings
9:00am    Vacation Bible School
12:00pm   VBS Pick-up
5:30pm     VBS Aftercare Pick-up
Wednesday
8:30am   Church Breakfast is in the Scout Room. All are invited to enjoy coffee, doughnut, fellowship and learn about another Maxwell Streeter. Elizabeth Leatherman is a trained lawyer and an active CPA who is serving as Maxwell Street's Treasurer. She is the Associate Director of Tax Services at Dean Dorton. Please come to hear more about her. Coffee & doughnut are just $1. Come earlier than 8:30 to mingle.
9:00am    Vacation Bible School
12:00pm  VBS Pick-up
5:30pm    VBS Aftercare Pick-up
Thursday
9:00am    Vacation Bible School
12:00pm  VBS Pick-up
5:30pm    VBS Aftercare Pick-up
6:00pm    Neighborhood Meal
Saturday
9:00am   Mahan Woodshop
9:00am   MSPC June Golf Outing is Saturday, June 23 9am at Kearney Hills (3403 Kearney Rd. 40511). Please RSVP by Friday, June 22 to Brent Guilianibrent@bainesinc.com. If you have questions, call Brent 940-1528.
6:00pm   BIBLE CLASS PICNIC is Saturday, June 23 at Larry Botts Farm Barn on Leestown Pike starting at 6pm. Ron Eads and Joe Kyle will provide fried chicken and cold drinks. Please bring sides, chips, desserts to share. Take Leestown Road; turn left on Weisenberg Mills Road; then take first right into the farm. Please rsvp so we'll know how much chicken to purchase. (Questions, Tom Dixon  tomlexky@gmail.com )
Other News:
VISIT THE Family Table in the Lobby (area where the elevators are right outside of the sanctuary), with activities for children to do during worship or to take home. Check it out each week to see new activities, recipes, places to go, and things to do!
THANK YOU to everyone who helped with the church clean-up weekend! So many things were accomplished.
NADYA Book Club meets June 24 from 6-7:30 at Jason and Andrea's house.  We're beginning a new book:  Southernmost by Silas House.  This group is open to newcomers.  Questions:  email Jason (jasonmckinleywilliams@gmail.com).
HOUSING SIMULATION GAME  are Sunday afternoons 4:30-6:00 June 17, July 8, 15 and 22.  During the summer, we host church groups from all over for our Mission Immersion Program. Part of their experience include the Housing Simulation Game, designed to show the youth participants how frustrating and devastating living a life in poverty can be.  To play this game, however, we need at least 6 volunteers who plays roles like (landlords, food stamp workers, social security office assistants, school registrants, etc).  If you are interested in volunteering, please sign up on the friendship pad or contact Shelli shelli@maxpres.org)  Dates needed:  June 17, July 8, 15 and 22.
PRIDE FESTIVAL ~ June 30 is the date for this year's Pride Festival. We will have a booth to distribute water. We will need folks to be at the booth, folks to walk back and forth from church to the booth with coolers of water, etc. If you are interested in helping with this fun project, sign up on the friendship pad. Questions: Matt@maxpres.org. Sign Up to Help Here:
www.SignUpGenius.com/go/60B0D4EA4AB2AA5F85-pride
SUMMER CHOIR is in full swing.  What are you waiting for?  This is your opportunity to sing your heart out in the MSPC summer choir.  There are no Wednesdayrehearsals to attend; just show up in the Choir Room on Sunday mornings at 10am, and Kaitlin will direct you on the music for the morning.  All are welcome, so come sing with us!
SUMMER HYMNS ~Do you have a favorite hymn? Maybe one that you grew up singing, or one that holds special meaning to you. If there is a hymn you would like to sing, please write down in the Friendship Book or email to matt@maxpres.org: your name, the hymn title (and number if you know it), and the reason you like this particular hymn.
CARING MEALS MINISTRY ~It's time to restock the freezer with prepared dishes for the Caring Meal Ministry. If you have not participated in this ministry before, there is an article explaining it in the May Maxwell in Motion which can be found on MSPC's website. The label for the dish can be downloaded from the website or obtained in the office. Questions: email Jackie DeCroo at 859-224- 9379 or ask Kate or Pam (255-1074).​
DUTCH goes to lunch June 24 to Palmer's (161 Lexington Green Circle).  On Sundays, Palmers features a wonderful brunch menu (ranging from $10-16 plus drink, tax and tip).  If you haven't joined us before, please consider going to lunch "Dutch" and getting to know other Maxwell Streeters.  We'll meet in the education lobby after worship to arrange carpooling.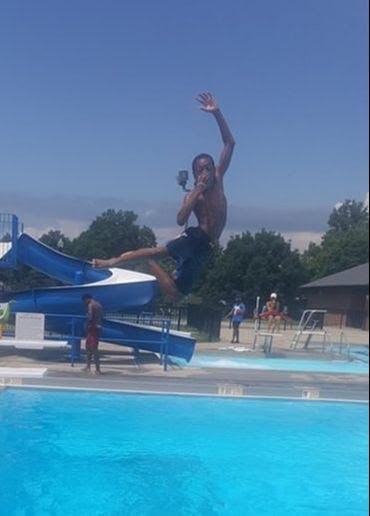 E7 SUMMER PROGRAMS
E7 provides free and accessible care and depends on outside funding in order to ensure the best summer program possible.  Your donations will allow E7 to provide children with educational field trips to places such as the Louisville Zoo and the KY Science Center, pool passes, and supplies for daily constructive activities.  With your help, E7 can be the difference a child needs to enjoy a rewarding summer adventure!  Please visit the Go Fund Me page at http:///www.gofundme.com/e7kidscafe .​
BURNAMWOOD. . . I HEAR YOU CALLING
SUMMER CAMPS
It's time to sign up for Camp Burnamwood dates.  Maxwell Street is representing with summer staff with Allie Gregory, Caroline Copley and Claire Roberts.  Come join the fun! Sign up here. If you have any questions about camp specifically, you may email info@burnamwood.net or call 859.494.9113.
Senior High Conference June 18 (Monday) 10am – June 23 (Saturday) 11am
Middle School Conference June 25 (Monday) 10am – June 30 (Saturday) 11am
1st-2nd Grade Mini-Camp July 6 (Friday) 10am– July 7 (Saturday) 5pm
Night Owl Camp, Grades 8-12 July 9 (Monday) 10am – July 14 (Saturday) 11am
MADD Camp July 24 (Tues) 10am – July 28 (Sat) 12pm
(performance  Saturday at 11am)
AND A NOTE FROM CAMP DIRECTOR ROBBY LEAR:I want to let you know about this opportunity to give a little back to the camp we hold so dear.  We have recently started a Continued Giving Campaign to try to raise much needed funds to renovate outdated buildings, purchase new equipment, provide scholarships for those in need of them, and for the general upkeep of the camp.  It is our hope that this will improve the overall experience of the campers and members of the Presbytery and will encourage new youth to come see what Burnamwood is all about.
Burnamwood serves and helps so many youth just as it always has but, unfortunately, the needs of the camp have begun to outweigh the support.  This is where we want your help.  Our goal is to have 500 members of our Presbytery sign up for this campaign which you can do for as little as $5 a month.  This is a lofty goal but I believe that Burnamwood has impacted far more lives than that.  So, if Burnamwood has had a positive impact on you or someone you know, please consider signing up and passing along this message.
It works like this:
click on "CLICK HERE TO DONATE ONLINE"
type in your name, e-mail, choose "Recurring Monthly", and type in the amount you wish to donate every month.
follow the directions to provide your payment information.
each month, the amount you put will automatically be donated from you to Burnamwood.
After you have signed up, please send this e-mail to at least 3 people you know that would like to give back to Burnamwood.
If you have any questions, please do not hesitate to call 859.494.9113 or e-mail info@burnamwood.net.  Any amount you can give on a monthly basis helps more than you can imagine and all donations are tax deductible.  I urge you to please take a few minutes and become a part of the Burnamwood Continued Giving Campaign but, at the very least, please forward this on to someone you know would love to give a little something back to a place that has given so much to so many.
Sincerely,
Robby Lear
I really hope your summer is off to a great start and that you'll join us for some Maxwell Street fun this summer: 
Float the Mighty Elkhorn: Sunday, June 24th – Leave Church at 12:30… Pick up at the church at 8:00pm. $20 per person. Spend a Sunday afternoon with your friends lounging on an easy stretch of the river… float and have fun! We'll stop for dinner on the way home. RSVP to Matt at matt@maxpres.org by Monday, 6/18.
Maxwell Street Movie Night: Sunday, July 22nd at Maxwell Street at 7:00pmPick up at the church at 10:00pm. Napoleon Dynamite, The Princess Bride, Remember the Titans… something fun and highly quotable. I don't know which one it will be yet, but we're going to eat popcorn and ice cream and have a blast. I hope you'll join us! No Cost!
Youth Mission Opportunity: Monday, July 30th – Serve Dinner at Hope Lodge (Need 8-10 volunteers) – Please let me know if you would like to help out: matt@maxpres.org
King's Island: August 2nd – We'll leave Maxwell Street at 7:45am and be back at 8:00pm. Cost is $40. Scholarships available. Bring friends! Please let me know if you'll be joining us – matt@maxpres.org. More details to follow!
Joys and Concerns
Nancie Field is recuperating from a fall at Cardinal Hill.
Frankie White is recuperating from pneumonia at Cardinal Hill.
Jeanne Tighe is in St. Joseph's Hospital.
Sam Kissel is recuperating from a broken arm.
Tammy Lane has finished chemo.
Joe Paul is recuperating at home.
Pat Schrader continues to regain her strength and mobility.
Gerry Gillespie is home recuperating from surgery.   
BLESSING
The sunlight greets me in morning, reminding me that I begin this day in your presence, and the stars of the night sky remind me of your abundant grace and love. I will seek your face in those I meet today, and as I lay down to take my sleep, I will imagine Jesus being with those who look for a place to lay their heads 
tonight
. I ask for your mercy and pray for the day when we all can sleep in your shalom. Amen.